Introduction
As the world becomes increasingly interconnected, mainstream cultures are starting to overshadow minority cultures. This is especially true in China. Though China is a multi-ethnic country, the Han population largely dominates the country. With the Han majority and Western influences, ethnic minority cultures in China face the threat of becoming lost and forgotten. There have been many efforts made by the government, organizations, and individuals to preserve and record these cultures. For example, Yang Liping (杨丽萍) created the "Dynamic Yunnan" show to bring traditional ethnic minority folk dances to a wider, modern audience so that these fading cultures may be preserved and protected. The Chinese government has also implemented and pushed various policies that focus on ethnic music education (Zhang).
However, minority cultures are visible beyond these initiatives that focus specifically on ethnic minority culture preservation. In particular, ethnic minority music can be heard in singing competition reality shows, which are consumed by mainstream audiences. Because these songs are sung in such a context, it is interesting to examine what level of authenticity these singers are able to present. Singing competition shows provide a medium through which ethnic minority singers are able to express themselves and raise awareness for their culture.
---
History and Importance of Singing Competition Shows in China
It is important to first understand why examining ethnic minority music in the context of these singing competition reality shows is meaningful. The first singing competition reality shows came about in China in the early 2000s. These shows, Super Boy (2003) and Super Girl (2004), were inspired and adapted from Western shows such as Pop Idols and American Idol (Xu and Guo 200).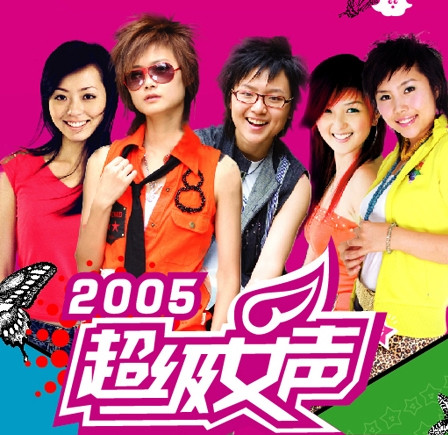 The 2005 season of Super Girl drew in about 400 million viewers, and the show encouraged audience participation through voting, which was "a breakthrough for Chinese television" (Huang 229). The success and popularity of these initial programs led to both greater government restrictions on content and voting and a proliferation singing competition reality shows. Among these were Sing! China (formerly The Voice of China), which premiered in 2012 and was based off of the original show The Voice of Holland, and Singer (formerly I Am a Singer), which premiered in 2013 and was based off of the original Korean show. These singing competition reality shows have helped produce a multitude of successful singers. The various seasons of Super Boy and Super Girl launched the music careers of prominent industry figures such as Chris Lee (李宇春), Jason Zhang (张杰), and Hua Chenyu (华晨宇). Singers such as Diamond Zhang (张碧晨) and Zhou Shen (周深) were participants in The Voice of China.
However, these programs serve not only as platforms from which to launch successful careers but also as sites where new musical traditions can be created. "Singing contests serve as liminal spaces where singers, judges, and audiences negotiate elements of continuity and change" (Gibbs 52). This intersects with the ideas about liminality we had discussed in class. The stage becomes an "in-between" space. Like with the 2008 Beijing Olympics and the straddling of the old and the new, singing contestants struggle with the balance between being more conservative and safe versus being more experimental and free in their song choice. Every contestant presents their own unique interpretation of and attitude towards music, and musical styles constantly evolve and advance. Mainstream audiences can listen and be exposed to music they may not traditionally hear. The singers in these competitions come from all types of backgrounds; the competition stage allows a melding of cultures. This is a key feature that makes singing competition shows a meaningful context in which to understand ethnic minority singers. Specific shows or groups that focused on just ethnic minority music may alienate a wider, modern audience and only draw in people who are already predisposed towards and interested in minority music. For example, the Yandong Grand Singers performance that we watched likely attracted a niche audience of people who were already interested in their music or interested in learning more about their music. While these performances are insightful ways to learn more about and spread ethnic minority culture, they are not the most ideal format to reach a general audience. Singing competition shows, on the other hand, can reach hundreds of millions of viewers.
"When a professional folksinger wins a contest in China, the singer, song, vocal style, and region represented become more prominent…in the national performancescape" (Gibbs 52). It is not guaranteed that ethnic minority music is present in all seasons and all episodes of these shows, but the fact that audiences do see and hear them is a step towards greater acknowledgement and visibility for these cultures.
---
The Impact of Ethnic Minority Music in Singing Competition Shows
Ethnic minority singers are able to leverage singing competition shows as platforms for them to raise awareness and increase the visibility of ethnic minority music. However, the fact remains that such ethnic minority music is being sung in competition, and it is inevitable that it will be changed and adapted to be more appealing to the judges and audience members. These singers have to balance staying true to traditions of the minority music while also adapting it to suit a competition stage. The adaptation of ethnic minority music in singing competition shows such as Sing! China and Singer may not strictly be authentic, but this deviation is balanced by the benefits come with increased awareness and acknowledgement of minority cultures.
Singing competition reality shows provide the platform necessary for ethnic minority music to be noticed by the general public. In particular, Sing! China and Singer are popular with mainstream audiences.
Sing! China drew in about 120 million viewers and 400 million Internet users for its 2012 season (Xu and Guo 201) and Singer draws in, on average, 100 million viewers per episode (Chitrakorn). An interesting distinction between them is that they feature different types of singers. Sing! China is focused primarily on finding new and upcoming singers while Singer consists of professional singers who are already established in the music industry. The background of the minority singers in these shows are not limited to one ethnic group but are spread across many. These differences in the cultural background and performance ability provides audiences with a better understanding of the diversity of ethnic minority singers.
Analysis of Ethnic Minority Music in Sing! China
It is no surprise that the number ethnic minority singers in Sing! China is not very high. In the 2012 season, there were 76 initial blind auditions. Of these, five contestants were ethnic minorities – two did not make it past blind auditions, two become team finalists and one, Jike Junyi (吉克隽逸) who is of the Yi minority, won third place (Qian 60). In the 2017 season, Tashi Phuntsok (扎西平措), a Tibetan singer, became the first ethnic minority singer to win the competition (Qian 57). Jike Junyi and Tashi Phuntsok's music in performances in Sing! China provide a deeper insight and understanding of the current state of ethnic minority China.
Some of the ethnic minority songs sung by contestants in Sing! China were adapted, but the singers were able to convey key elements that are characteristic to traditional singing methods. In her blind audition, Jike Junyi sang a mix of "Don't Be Afraid" (不要怕), an Yi folk song, and "I Feel Good," an English soul/funk song. She starts off singing "Don't Be Afraid" in a local Yi language before transitioning from the slower, more emotional folk song to James Brown's upbeat and lively "I Feel Good." The Yi folk song section prominently features Jike's voice with just a simple guitar as the backing instrument (Summer Jikejunyi 0:02-0:40). This 40-second section instantly captures the judges' and audience's attention. By starting off with a Yi folk song, Jike immediately makes her cultural identity apparent. She is not hiding the fact that she is an ethnic minority but instead proudly sings it out for her first appearance on this stage. Jike does switch and completely transition to a Western song, but this change does not diminish the fact that she is bringing attention to ethnic music. In fact, "Don't Be Afraid" was relatively unknown until Jike made it popular through singing the song on Sing! China and receiving widespread recognition from the judges such as Liu Huan (刘欢) and the audience ("Don't Be Afraid"…). Additionally, Jike also wore ethnic bracelets and earrings, and the camera zoomed in and focused specifically on these accessories during parts of her performance (Summer Jikejunyi 0:28-0:30). The fact that she mixed a Yi folk song with a Western song does not take away from the impact and influence she has in promoting her culture. She not only popularized one of the Yi folk songs but also increased attention towards and acknowledgement of Yi culture, people, and music for mainstream listeners and viewers.
Similarly, Tashi Phuntsok also proudly presents his Tibetan culture on stage and brings Tibetan music to the limelight. During his blind audition, he sings "Yi Mian Hu Shui " (一面湖水). The song is not of Tibetan origin, but Tashi mixes Tibetan and Mandarin Chinese when singing it. Like Jike during her blind audition, Tashi starts off singing in his own local language. Throughout the song, he switches between Tibetan and Mandarin. Near the end, he begins rapping in Tibetan. He showcases a clearly Tibetan style of music not just through language but also through his voice. Tashi uses a clearly identified singing style of "high wavering tones at the end of a line" (Jiang 101). Additionally, in subsequent performances during the competition, he also uses "Tibetan musical elements such as Tibetan opera technique and Tibetan singing bowls" (Jiang 102). Through his performances, Tashi highlights elements of traditional Tibetan music. General audiences may not commonly hear the Tibetan language or styles of singing, but because he is incorporating these elements into his performance and performing in front of millions, he is able to spread awareness and increase visibility for his culture. His inclusion of more modern, Western styles such as rap does not take away from the fact that he is using this stage to prominently present aspects of his culture and music.
The inclusion of Western or non-traditional ethnic elements in contestants' music aids them in raising awareness of ethnic minority music. "Chinese public media, films, art, and national entertainment programs often represent Chinese ethnic minorities as exotic, colorful, and primitive" (Zhang). These are the stereotypes often associated with ethnic minority cultures. However, on the stage of Sing! China, singers such as Jike and Tashi break that stereotypes through their music. They are able to show that ethnic minority music is not outdated but can be modern. It is not just limited to the folk songs, but like any other culture's music, ethnic minority music is continuously changing. When Jike sang the mix of "Don't Be Afraid" and "I Feel Good," she was not only presenting Yi music but also presenting how it can be contemporary and popular music. Similarly, in Tashi's performance, he highlighted that Tibetan music is continuously progressing and advancing. "Modern Tibet music is still unknown to the large population in China…[Tashi] kept presenting the authenticity of the modern Tibet music" (Jiang 101-102). Through his mixture of traditional Tibetan musical styles and modern Chinese and Western musical styles, he is able to defy ethnic minority stereotypes and bring his minority culture to national attention. Both Jike and Tashi are able use competition stages to break ethnic minority stereotypes through presenting modern ethnic music.
Analysis of Ethnic Minority Music in Singer
It is not just new and upcoming singers who are attempting to bring ethnic minority to mainstream audiences but established, professional singers are as well. Ethnic minority singers are able to maintain a foothold within the professional music industry; it is not limited to the temporary success of new singers in these shows. It is possible for ethnic minority singers to succeed and thrive in the Chinese music industry without having to compromise their music. The ethnic minority professional singers competing in shows such as Singer highlight their music and success to mainstream audiences.
Ethnic minority singers' presence on singing competition shows gives increased visibility to their culture and music. Tengger (腾格尔), a Mongolian singer, participated in the 2018 season of Singer. In his first appearance on the show, he sang the song "Heaven" (天堂).
The song heavily featured many cultural elements. The introductory instrumentals to the song consisted of the morin khuur, a traditional Mongolian string instrument, which also known as the horsehead fiddle. He also featured Mongolian throat singing during this instrumental section, which led to immediate applause from the audience and surprise (MGTV Music Channel 0:07-0:50). Both of the morin kuur players and throat singers wore traditional outfits.
The music then transitions to more traditional Western instruments such as violins and guitars. What is interesting is that the original version of Tengger's "Heaven" did not feature the Mongolian style of music as heavily. In his original version, there is no throat singing nor is the morin khuur as prominent. The main instrument is just a guitar. This is an interesting reversal from the music of singers such as Jike and Tashi. Instead of making the ethnic music more modern and Westernized, Tengger instead incorporates even more traditional musical elements in it. He appears to be much more confident and obvious in expressing his culture and music. Perhaps one factor that motivates him to do this is that he is already an established singer, so he has more freedom to make whatever style of music he is interested in expressing. This is a hopeful outlook for ethnic minority singers; they do not need to give up their cultural music in order to be successful in the music industry. In this episode where he sang "Heaven," he won second place, beating out even Western and Mandarin pop songs ("Singer 2018"). He participated in eight episodes and sang eight different songs. Not all of them were minority-centric songs. For example, Tengger sings "Start Again" (从头再来), which is Chinese rock with many Western instruments such as guitar and snare drums (MGTV Music Channel 20:53). However, in most of the songs that he sings, he includes various traditional stringed instruments, horns, and drums.
One of the features of Singer is that the contestants are only able to sing a limited number of their own songs and must sing other artists' songs instead ("Singer 2018"). Under these constraints, he chose the songs of other Mongolian singers such as with "Father's Grassland, Mother's River" (父亲的草原母亲的河) or incorporated ethnic instruments in non-ethnic songs such as "Go Forward Boldly, Jiu'er" (九儿,你大胆地往前走) (MGTV Music Channel 25:50, 32:53). Every episode, millions of general viewers are tuning in to this show, watching, and listening to his performances. Audiences who might otherwise never listen to ethnic minority music would be exposed to culturally rich music and might be interested in learning more. He could be serving as inspiration to other aspiring ethnic minority musicians.
---
Authenticity and Original Ecology
An area of concern that may arise with performances of ethnic minority music on competition stages is the issue of authenticity or original ecology. In class, we discussed these topics in-depth with relation to ethnic minority dance. Specifically, we looked at Yang Liping's "Dynamic Yunnan." Some may view the show as inauthentic or not original ecology because she has taken the dances and performances out of their original context and adapted them for the stage; however, others claim that it is original ecology because she has retained and preserved many of the key elements of the performances. "Original ecology is only relative" (Wang 107). We also investigated the idea of dynamic inheritance, where original folk forms are transformed as its passes through different artists who hand down the traditions (Wilcox 77). These topics of original ecology and dynamic inheritance are interesting lenses through which we can look at ethnic minority music in singing competition shows.
The ethnic minority music presented in competition may not be original ecology, but that is not their main intent. According to Wang, "original ecology music refers to…original folk music which gradually forms…[from] customs in life" (106). The singers sing "authentic folk songs without processing of modern composition ways," "sing for their own hometowns," and user "their local dialect" (Wang 107). This is one interpretation of what original ecology, with respect to ethnic music, might signify. The ethnic minority music in these shows do, in some ways fit with this view of original ecology. For example, Tengger's "Heaven" is dedicated towards describing the beauty of his homeland. Jike and Tashi both sing in their own local dialects. However, in many ways, these singers deviate from the original ecology. They experiment with combining the traditional with the modern, the ethnic with the mainstream. In ways, they use dynamic inheritance methodologies to transform their songs. They have retained the characteristics and traditions they feel are necessary and created new, modern adaptations (Wilcox 87). Some may believe that these adaptations for contemporary audiences further serve to erode away ethnic minority music, but the purpose of these singers is not to present purely ethnic music.
They are increasing the visibility of ethnic minorities and breaking the stereotypes of being exotic or backwards that are often associated with ethnic minorities.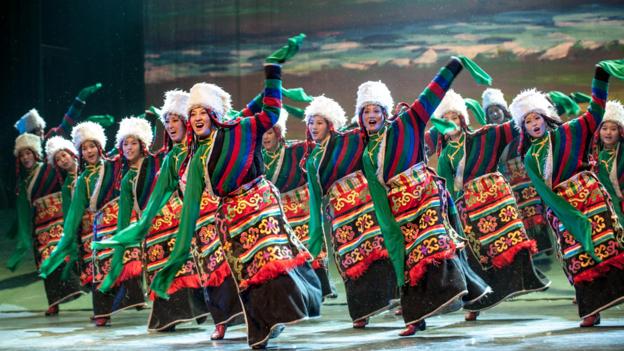 In China, the government "use propaganda films to publicize its ethnic minority groups" and use media to portray minorities as "harmless entertainers who twist and twirl in bright costumes and hats" (Montefiore). On these competition stages, these ethnic minority singers can reclaim this narrative. They can prove that they are beyond just simple entertainers but have their own cultural, modern, and progressive music.
This plays with the ideas of liminality as well. In the 2008 Beijing Olympics case study, liminality is described as an "in-between," and the Lawson article discussed how there is "liminal relationships between music and ritual" (6). In the case of ethnic minority music there is a tension between the traditional and the modern. Just as mainstream music constantly evolves and changes over time, ethnic minority music does as well. Just as the Han people are not limited to traditional Han folk music, ethnic minorities should not be limited to their traditional folk music when trying to express their cultural identity. Their music goes beyond just colorful, costumed folk songs but is nuanced, multifaceted, and contemporary. Not all ethnic minorities are traditional folk singers; there are Tibetan rappers and Yi pop artists. This is unlike "Dynamic Yunnan" where the express purpose of the show was to promote folk dance and performance culture. On these competition stages, the singers are honoring their cultural background while also promoting the diversity of their music and expressing themselves through their music.
---
Conclusion
In short, the ethnic minority singers on singing competition shows use such a platform to promote and raise increased awareness towards the diversity of their people, culture, and music. To be influential in promoting their ethnic music does not mean that they must use traditional folk songs to be effective but can take key characteristics of their traditional songs and singing methods. They reach a widespread, general audience and break stereotypes about what ethnic minority music should be.
---
References
Chitrakorn, Kati. "Chinese Reality Shows Boost Brands." The Business of Fashion, The Business of Fashion, 4 Dec. 2017, https://www.businessoffashion.com/articles/global-currents/chinese-reality-shows-boost-brands.
Gibbs, Levi S. "Chinese Singing Contests as Sites of Negotiation Among Individuals and Traditions." Journal of Folklore Research, vol. 55, no. 1, 2018, pp. 49–75. JSTOR, www.jstor.org/stable/10.2979/jfolkrese.55.1.03.
Huang, Wan-Chun. "The Voice of a New China: Democratic Behaviours in the Chinese Reality Shows Super Girl and Happy Girls". Asiascape: Digital Asia vol. 5, no. 3, pp, 225-253. https://doi.org/10.1163/22142312-12340093 Web.
Jiang, Xinxin. "Whose Voice?: A Critical Analysis of Identity, Media, and Popular Music in The Voice of China." 2018. Bowling Green State Univerisity, PhD dissertation.
Lawson, Francesca R. Sborgi. "Music in Ritual and Ritual in Music: A Virtual Viewer's Perceptions about Liminality, Functionality, and Mediatization in the Opening Ceremony of the 2008 Beijing Olympic Games." Asian Music, vol. 42, no. 2, University of Texas Press, 1/7/2011, pp. 3–18.
Montefiore, Clarissa Sebag. "Culture – How China Distorts Its Minorities through Propaganda." BBC, BBC, 16 Dec. 2013, http://www.bbc.com/culture/story/20131215-how-china-portrays-its-minorities.
Qian, Lijuan. "Which Identity Matters? Competing Ethnicities in Chinese TV Music Contests." The World of Music, vol. 6, no. 2, 2017, pp. 57–82. JSTOR, www.jstor.org/stable/44841946.
"Singer 2018." Wikipedia, Wikimedia Foundation, 12 Dec. 2019, https://en.wikipedia.org/wiki/Singer_2018.
Wang, Jin. "Analysis of the Inheritance and Development of Original Ecology Music." Cross-Cultural Communication, vol. 11, no. 3, CSCanada, 3/26/15, pp. 106-109.
Wilcox, Emily E. "Dynamic Inheritance: Representative Works and the Authoring of Tradition in Chinese Dance." Journal of Folklore Research, vol. 55, no. 1, Indiana University Press, 1/4/2018, pp. 77–111, doi:10.2979/jfolkrese.55.1.04.
Xu, Deya, and Guo, Lei. "Use and Gratifications of Singing Competition Reality Shows: Linking Narcissism and Gratifications Sought with the Multimedia Viewing of Chinese Audiences." Mass Communication and Society, vol. 21, no. 2, Routledge, 4/3/2018, pp. 198–224, doi:10.1080/15205436.2017.1404616.
Zhang, Wenzhuo. "Multicultural Ethnic Music Education in Communist China." International Journal of Multicultural Education, vol. 19, no. 3, Eastern College, Department of Education, 2017, pp. 65–84, doi:10.18251/ijme.v19i3.1359.
"《不要怕》唱红吉克隽逸 原作者明晚亮相好歌曲 ("Don't Be Afraid"…)."凤凰网娱乐, 成都日报, 9 Jan. 2014, http://ent.ifeng.com/tv/special/zhongguohaogequ/content-3/detail_2014_01/09/32849316_0.shtml.
吉克隽逸Summer Jikejunyi. "不要怕 + I feel good 吉克隽逸," YouTube, 21 Jul. 2017, https://www.youtube.com/watch?v=dh8pzfExGh4
芒果TV音乐频道 MGTV Music Channel. "Singer 2018 – Tengger Singing Medley – Wolf Heaven【Singer Official Channel】." YouTube, 22 Apr. 2018, https://www.youtube.com/watch?v=39ATud5b5zA
浙江卫视音乐频道 ZJSTV Music Channel – 欢迎订阅 -."【选手CUT】扎西平措深情演绎《一面湖水》藏语Rap惊艳全场《中国新歌声2》第2期 SING!CHINA S2 EP.2 20170721 [浙江卫视官方HD]." YouTube, 21 Jul. 2017, https://www.youtube.com/watch?v=yt2F_TRAPFU